From 22 April to 10 July 2016 the Turkish ERASMUS+ student Özden Dumanlı is participating in an internship at our university. In Turkey, she is studying in a postgraduate course at the forensic department at the Institute for Security Research at the Police Academy Ankara. She also has a Bachelor's degree in German philology.
In the course of her internship, Mrs Dumanlı would like to familiarise herself with the organisation and procedural methods of the Brandenburg police force. Additionally, she plans to research the opinion of juveniles with Turkish background in Berlin/Kreuzberg regarding the German police. The findings of this investigation will form the basis for her Master's thesis.
Mrs Dumanlı received a first impression of the different departments of our university during the open day on Saturday the 23 April 2015. The president of the university welcomed her officially on Monday the 25 April 2016. She thanked him for the warm welcome. After the welcome, she was astonished by the Turkish flag flying in front of the building.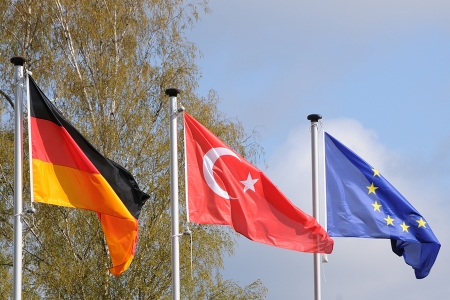 The International Centre thanks all people who showed willingness to fill in the internship of Mrs Dumanlı with interesting subject matter.
Siehe auch: